The best home security cameras can provide a little extra peace of mind, by giving you an extra set of eyes both in and outside your house. These cameras work in both day and night, and send you an alert on your smartphone when they detect someone or something. When a security camera senses something, it will also start recording video, so you have a full record of what happened.
However, there are a lot of cameras on the market, so choosing the best home security camera for your purposes can be tricky. We've done the work, testing dozens of models ranging in price from $20 to $500, and evaluated them for their image quality, features, cloud storage costs, and security.
What are the best home security cameras?
After testing dozens of wired and wireless options, the best home security camera for most people is the Nest Cam (battery). It works both indoors and outdoors, has great image and audio quality, and provides a number of smart features without a subscription, including person, animal, and vehicle detection. You also get for free three hours of rolling video storage, and because video is saved on the camera, you don't have to worry if your internet connection goes down.
For those on a budget, the Wyze Cam v3 is the best option. It costs around $20-$30, yet has color night vision, is weather-resistant offers free — though limited — cloud storage, and the ability to store videos locally.
When it comes to the highest-quality video, the Arlo Ultra 2 is the best home security camera. Not only can it record in 4K, but it can also digitally pan and zoom, so that it can track people and objects as they move across your yard. However, it's one of the most expensive cameras on this list.
If you have a more limited budget, the Blink Outdoor is the way to go. It costs $99, yet captures good-quality video, and gives you a lot of control over what gets recorded. And, you can also store video locally, or pay for a cloud subscription, which starts at $30/year.
If you're looking for something that can withstand the elements, be sure to check out the best outdoor security cameras. And, you'll also want to refer to our guides for the best video doorbells, best smart locks, and best DIY home security systems to fully guard your house.
Read on for all of our best home security camera picks.
Best home security cameras you can buy today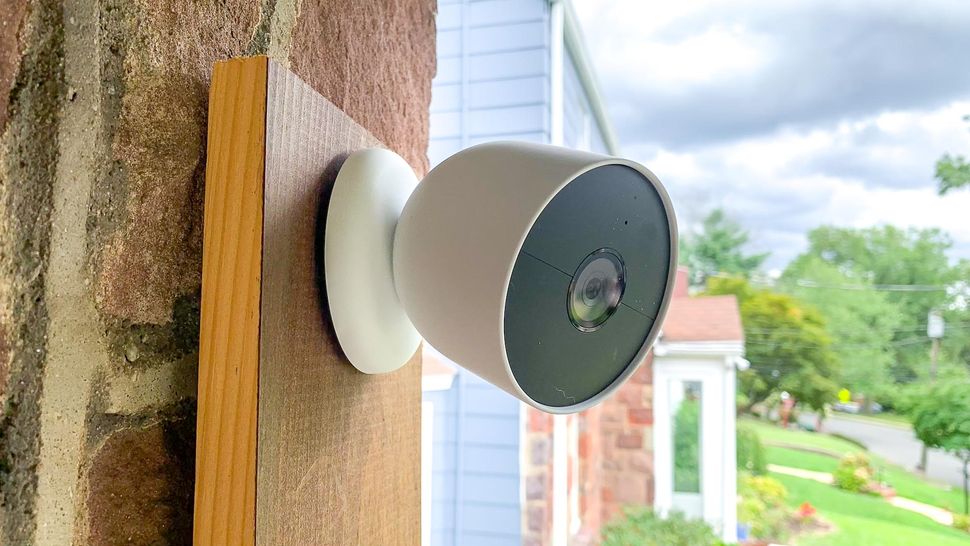 The well-designed Nest Cam (battery) has a simple shape and is one of the easiest home security cameras to install, thanks to its magnetic base. Its 1080p camera captures sharp images day and night, and its microphone and speaker made conversations a breeze.
The Nest Cam (battery) also offers three hours of rolling video storage for free, as well as person, vehicle, and animal detection. If you sign up for a Nest Aware subscription (starting at $6/month), you also get familiar face detection as well as the ability to store up to a month's worth of video.
Read our full Nest Cam (battery) review.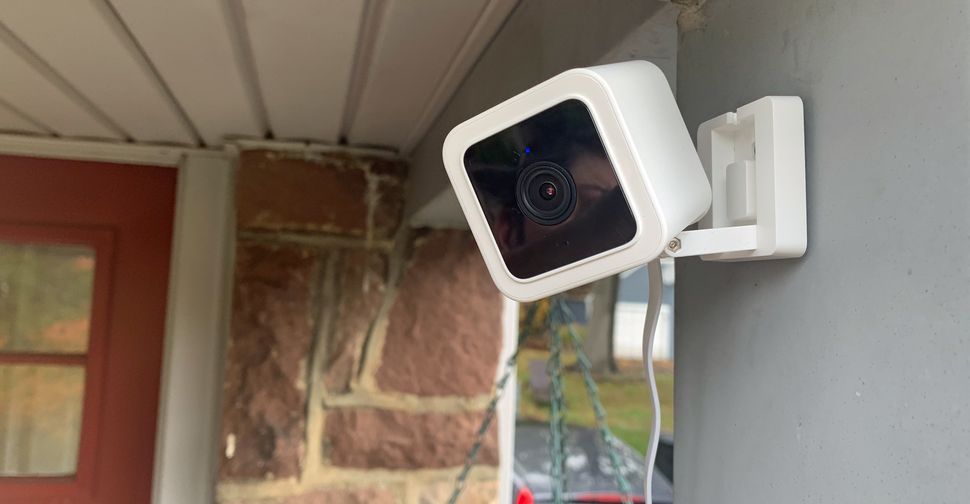 Don't let the low price fool you; the Wyze Cam v3 is the best home security camera for those on a budget. As its name suggests, it can record video at a resolution of 1080p, and while the quality isn't up to the same par as the 4K Arlo Ultra, it's still sharp enough to see who's there. Its color night vision is especially impressive.
The Wyze Cam v3 comes with two weeks of free cloud storage — though clips are limited to 12 seconds — but it also has a microSD card slot which you can use to enable continuous recording and create time-lapse videos. You can get unlimited-length videos and no cool-down periods if you subscribe to Wyze Cam Plus ($1.25/month per camera). That's cheap but good.
Read our full Wyze Cam v3 review.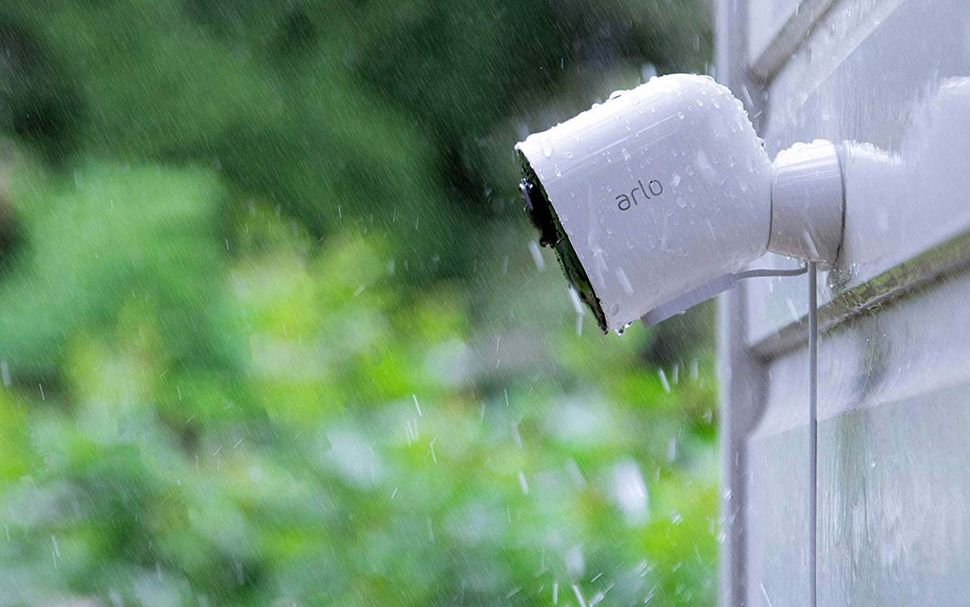 Not only do the Arlo Ultra's cameras deliver the best home security camera video, but it also uses that extra resolution to enable digital track and zoom, which makes it easier to follow and ID a person as they move across the frame. A built-in spotlight also enables color recording at night, and it has dual microphones for better audio.
All of this will cost you, though: A single camera (with the hub) is $399, and extra cameras are $299 each. The Arlo Ultra doesn't come with a free tier of cloud storage, so you have to spend at least $3 per month if you want to save any videos. And if you want to save 4K videos, it's an extra $1.99 per camera per month, on top of the monthly plan, the latter of which is waived for the first year. But if you want the absolute best when it comes to video quality, the Arlo Ultra has it.
Arlo has released the Arlo Ultra 2, which has a spotlight built into the camera. As a result, the original Arlo Ultra is being discontinued.
Read our full Arlo Ultra Review.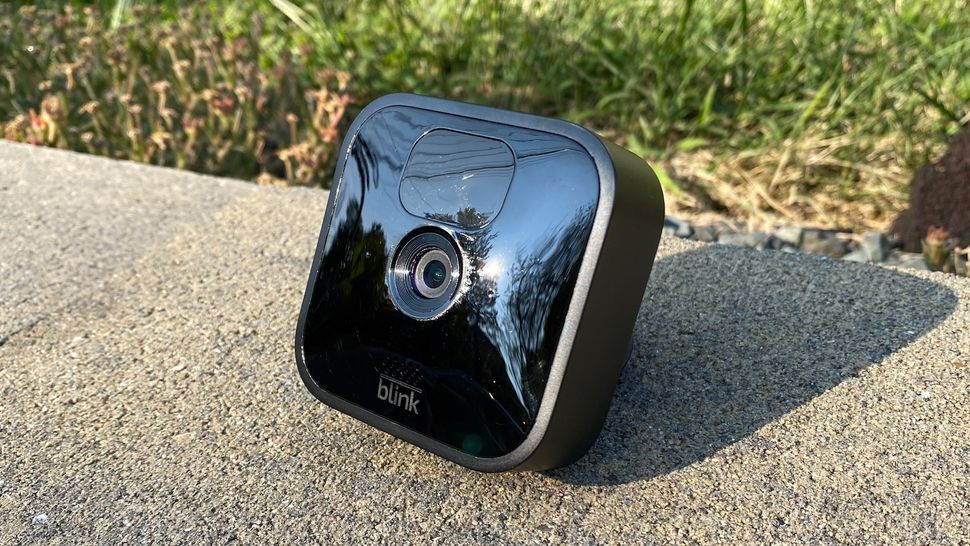 The Blink Outdoor is the best home security camera for those looking for a truly wireless option for less than $100. The camera runs off two AA batteries (which should last up to two years), and communicates wirelessly with a small base station that's connected to your Wi-Fi network.
The Blink Outdoor's case is weatherproof, so you can stick it either indoors or outside, and comes with a convenient mounting bracket. While not tops, the 1080p video is records is good for the price. While it lacks free cloud storage like the older Blink XT2, you can save videos locally to a USB drive. Cloud storage starts at $3/month or $30/year.
Because Blink (and Ring) are owned by Amazon, the Blink app also has a connection to Ring's Neighbors app, where you can see a feed of other incidents in your neighborhood, and post videos from your Blink camera. Blink's app is fairly robust, and while it doesn't have all the bells and whistles of Arlo's cameras, this sub-$100 has plenty of features for the price.
Read our full Blink Outdoor review.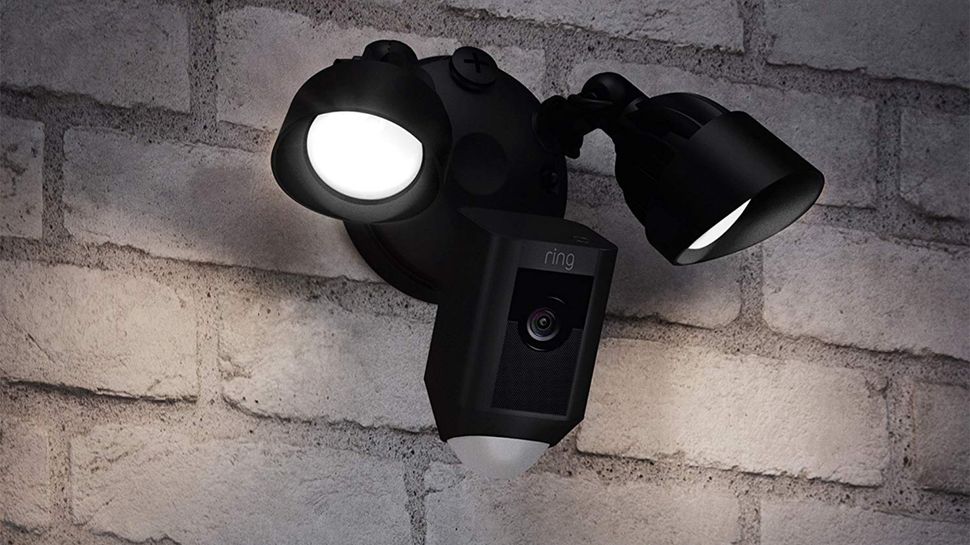 The Ring Floodlight Cam combines two essential devices in one: A home security camera and a motion-activated floodlight. When the Floodlight camera detects movement, it turns on its two powerful LED beams as well as its sharp 1080p camera, and starts recording. The Floodlight Cam also has a loud speaker, so you can talk to whoever's in front of the camera, and hear their responses.
Ring's app offers a variety of settings, such as custom motion zones, scheduling and more. Add to that Ring's neighborhood-watch feature, which lets you see what's happening in your area from other Ring users, as well as from your local police and fire departments. (You can also post your own videos to the Neighbors app). Unfortunately, to record and share video, you'll need to subscribe to Ring's cloud storage plans, which start at $3 per month.
Read our full Ring Floodlight Camera review.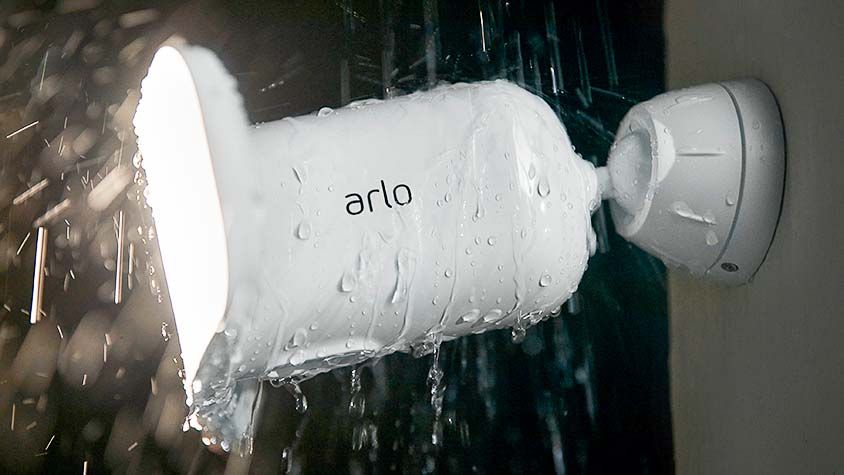 If you're looking for an easier way to install an outdoor floodlight, the Arlo Pro 3 Floodlight Camera is the model to get. Unlike Ring's Floodlight Camera, the Arlo runs on battery power, so you can install it virtually anywhere. Just know that you'll have to recharge its batteries, or spring for the optional solar panel, which can keep the camera going for greater lengths of time.
The Arlo Pro 3 Floodlight Camera delivered good quality video, and its digital pan-and-zoom was effective at helping identify subjects as they moved across our yard. Its 2000-lumen LEDs were also impressively bright. We just wish its batteries lasted longer.
Read our full Arlo Pro 3 Floodlight Camera review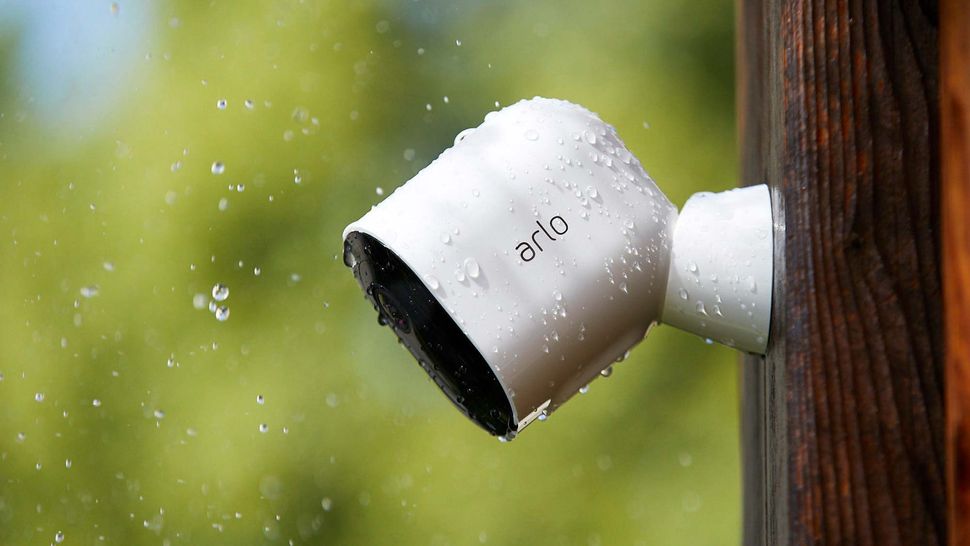 The Arlo Pro 3 boasts 2K video resolution, a built-in LED spotlight, and color night vision, making it a very capable home security camera. It can run off rechargeable batteries (which should last up to six months) or can be plugged in. Like most of Arlo's other outdoor cameras, the Pro 3 connects to a base station, which can support up to 20 cameras, and can also be used for local storage.
We were disappointed that the Arlo Pro 3 was the first of the company's cameras to do away with its generous free 7-day rolling cloud storage. You'll have to subscribe to a plan (starting at $3/month per camera) if you want to save video in the cloud; however, this also gets you features such as person, vehicle, and package detection, as well as customizable motion zones. Arlo no longer sells the Arlo Pro 3 directly, but you can still find it for sale at online retailers.
Read our full Arlo Pro 3 review.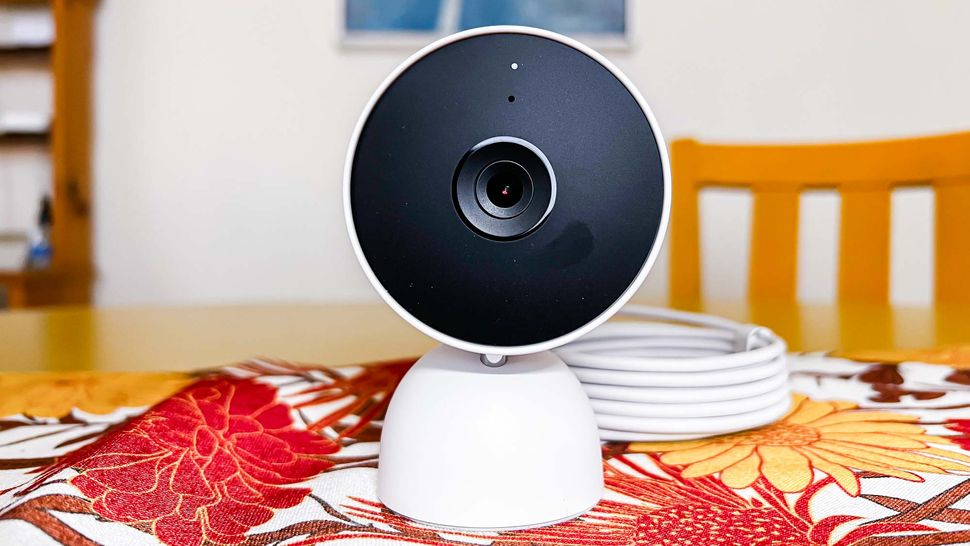 The redesigned Nest Cam (Indoor, wired) is the latest generation of the celebrated Dropcam—one of the first, and one of the best home security cameras—and brings a number of improvements, including a lot of intelligence, such as on-device facial recognition and three hours of video storage.
Video quality from its 1080p sensor was excellent in both day and night settings. We were also impressed with audio; its microphone picked up sounds very well. To really make use of the camera's features, you'll have to shell out for the Nest Aware subscription, which starts at $6 per month, but even without a subscription, you'll get three hours of video storage, person detection and customizable activity zones.
Read our full Nest Cam (indoor, wired) review.
Arlo's original home security camera, the Arlo Q, is about six years old at this point, but it's still one of the best home security cameras you can find for indoor use. You can pick it up for less than $100, which makes it much more attractive from a financial point of view.
Yet, you get a good 1080p video feed, two-way talk, a great app, and seven days of free cloud storage — something that Arlo no longer offers on its newer cameras. You'll want to subscribe to a cloud storage plan (starting at $10/month) if you want 30 days of storage and advanced object detection. But for basic needs, the free option works well.
The Arlo Q is no longer actively sold by Arlo, but is still available through other retailers.
Read our full Arlo Q review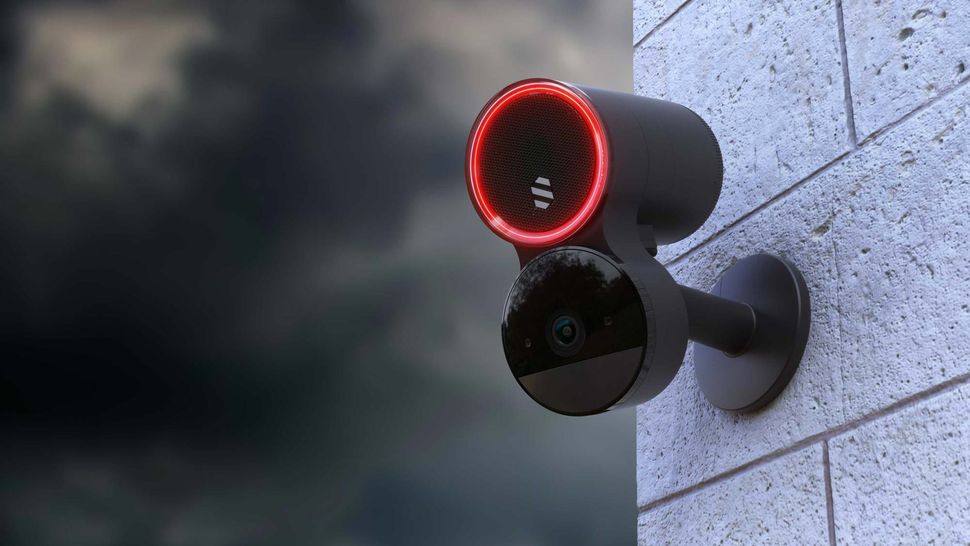 The Deep Sentinel is unlike every other home security camera. That's because when the camera spot an intruder, it sends a live feed to a monitoring station, where a professional can sound an alarm on the camera, shout a warning, and if necessary, contact the police.
All of this comes at a price: In addition to the cost of the cameras ($499 for three cameras), you also have to pay a monthly fee of $50. And, the resolution of the video tops out at 480p, as it prioritizes the smoothness of the video stream over its definition.
You could spend a similar amount for the best home security system, but they don't monitor your cameras as proactively as Deep Sentinel. But, they're the best home security cameras if you're looking for active monitoring.
Read our full Deep Sentinel review.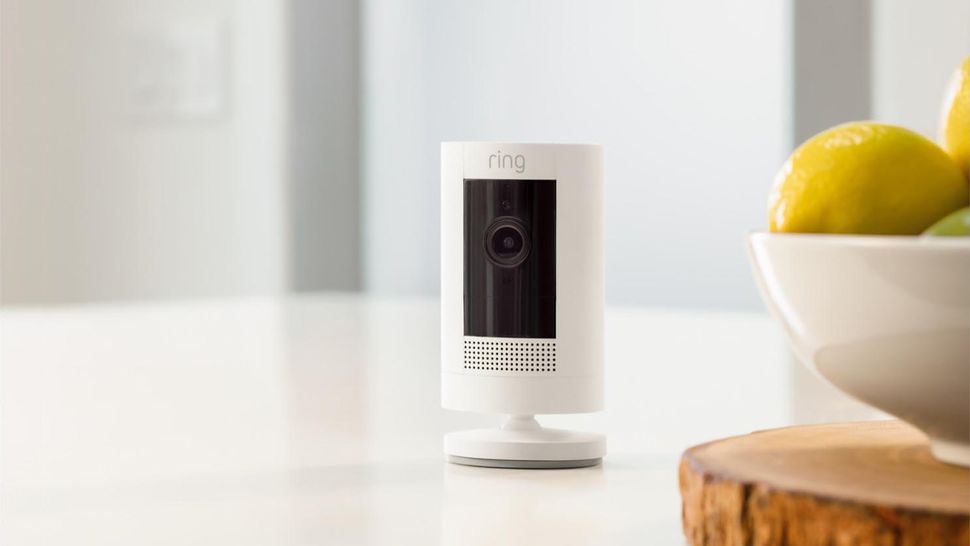 Ring's Stick Up Cam Battery functions as an outdoor or indoor security camera. It features a minimalist design which can be mounted via its base or back, giving you versatility. Although, if you want to mount it from your ceiling, you will need to buy a separate $20 ceiling mount kit. As it's battery powered, there's no wires and one charge will last for months according to Ring.
It has good coverage on the whole, with the view being wider than it is tall, and features a speaker which allows you to chat to any visitors, or raise the alarm if necessary. It's waterproof to an IPX5 rating and can withstand temperatures of -5°F to 113°F (-20° to 45° Celsius), so it can handle the elements.
Our only qualms are that you need a subscription to store footage as there's no local storage. It's also only compatible with Alexa at the moment in terms of smart home integration, so not best if you have Google Home or Apple HomeKit.
Read our full Ring Stick Up Cam Battery review.
How to choose the best home security camera
Indoor or outdoor?
When shopping for a home security camera, the first thing you'll need to consider is if you're planning to mount the camera indoors our outside. Only those cameras that are designed to withstand the elements should be placed on the outside of your house.
Wired or battery-powered?
With both indoor and outdoor cameras, you also have to decide if you want a battery-operated model or one that has to be plugged in. The former are easier to install, but you'll have to recharge or change their batteries every few months. (Some companies also make solar panels, which can extend the life even further.) The latter might require you to install an outlet or drill holes through your wall, but then you won't have to worry about it afterwards.
Video resolution
Don't buy a security camera that has a resolution less than 1080p. Some cameras can now even record in 4K, which not only means much sharper quality, but also means you can zoom in and still see features clearly.
Local vs. cloud video storage
You also want to think about what each home security camera offers in terms of video storage. Most will let you store videos in the cloud, but many require you to pay a subscription to do so. A few cameras have memory card slots, so you can save video locally; however, if someone steals the camera, you lose your recordings with it. Be sure to check out our comparison of which home security camera has the best storage plan.
Person, animal, and vehicle detection
A camera that can distinguish between people, animals, and vehicles means that you can get smarter notifications about what's happening; this way, you don't have to open your camera's app every time it senses something.
Spot- or floodlight options
Some outdoor security cameras have spotlights or floodlights built in; not only does this make it easier for the camera to see things, but it's also handy for you to see in the dark outside your home.
How we test home security cameras
To find out which is the best home security camera, we set up each of the models inside or outside a home, noting the difficulty or ease of installation. We then use the camera over a period of several days. The first thing we look at is the quality of the video it records, both day and night. As a person walks through the frame, were their faces clear and well-defined, or was it a blurry mess?
We also look at the features that are available through the camera's app. Does it have such things as customizable motion zones? If you live on a busy street, you don't want the camera recording video and alerting you every time a car drives by. A good home security camera should also have a scheduling feature, so that you can turn it off while you're home, and on when you leave.
Last, we also consider how much it costs to view, save and share recorded video. While some cameras still let you view a few days of recorded video, the trend has been to only let you watch live video from your camera unless you sign up for a subscription. That means you can't look back a few hours or days to see who was walking through your yard. And, most subscription plans also include extra features, such as custom motion zones.